Welcome to Our Prayer Request Page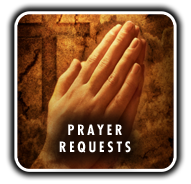 There is power in prayer, and we want to pray for you! If you wish to share your request with our prayer chain via email, or publish your request or words of praise and thanksgiving to God on our site, please click on the the link below. Although we rarely do so, we reserve the right to edit requests.
For requests that can be shared with other viewers so that they can pray too, click on 'Post to website'.

For requests to be shared only with our Prayer Band, indicate 'Confidential'.

To share words of praise to God, indicate 'Praise and Thanksgiving.'
Though we may not be able to respond to your email, please know that all prayer requests will be prayed for individually. God bless! Our prayers are with you.